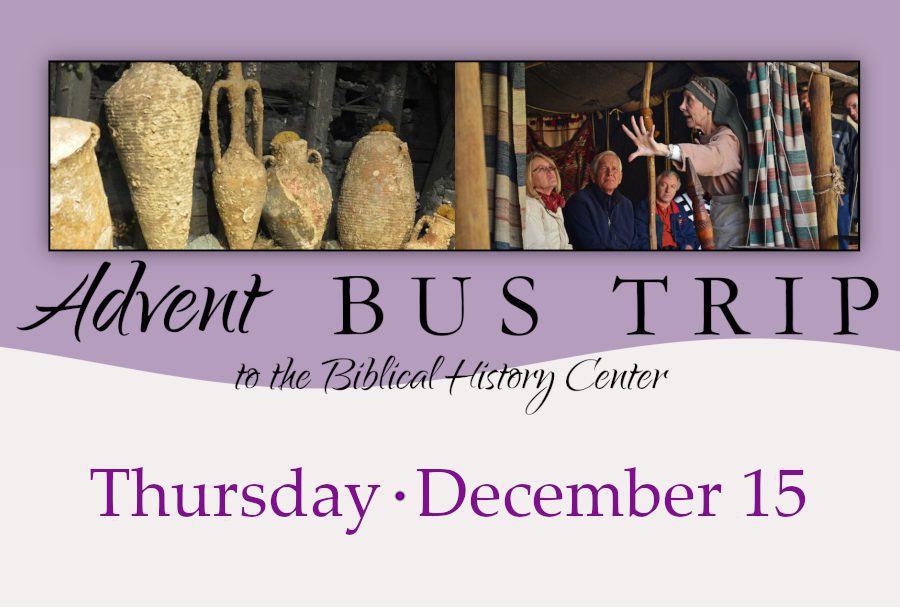 Thursday • December 15 from 8:00am-5:00pm
Join us as we make a special journey during the Advent season to a replica of Bethlehem and hear the story of the Manger. We will begin our day leaving St. Benedict at 8AM aboard a luxury tour bus headed to the Biblical History Center in LaGrange, GA.
The highlight of any visit to the Biblical History Center is a walk through the Archaeological Replica Garden where full-scale reconstructions of structures relevant to daily life in Biblical times bring history to life. Our tour guide will give us a 1-hour lecture of life in Biblical times and the Story of the Manger.
Next, we move inside to The Biblical Life Artifacts Gallery. This is an amazing opportunity to peer back across the ages to see what daily life was like in ancient times. The 250 artifacts from the National Treasures of Israel, on long-term collection from the Israel Antiquities Authority, are exhibited in life-like settings. The BHC is privileged to be one of only eight museums in the world, and the only one in the Southeast US, to have such a collection.
After our touring, we will stop for lunch at the local restaurant Taste of Lemon for a traditional southern lunch.
All entry fees, cost of the bus, meal cost and lunch tips are included for just $90 per person. (Tips for the tour guide or bus driver will be at your discretion.)
Must register by November 30th.
Questions? Contact Ann Shevlin at
ashevlin@stbenedict.net or 678-557-9178.