First Reconciliation & First Communion
What an exciting time in the life for your family! We are looking forward to working together to prepare your child to receive their sacraments!
First Reconciliation and First Communion are generally received in the 2nd grade. Students must have successfully completed 1st grade Faith Formation and be actively participating in 2nd grade Faith Formation. For older students, two consecutive years of Faith Formation participation is required.
In order to receive the sacraments a child is required to have had 2 consecutive years of faithful attendance (defined as not missing more than 3 classes total in one year) in the Faith Formation program.
Catholic school children, those who attend a private Catholic archdiocesan school are required to receive their sacrament at their home parish. Formation classes for these children are given at school. Attendance at our 2 workshops is asked of all families as it allows us the opportunity to gather as a faith community to prepare for the sacraments. Be sure to complete a family registration form for your Catholic school children.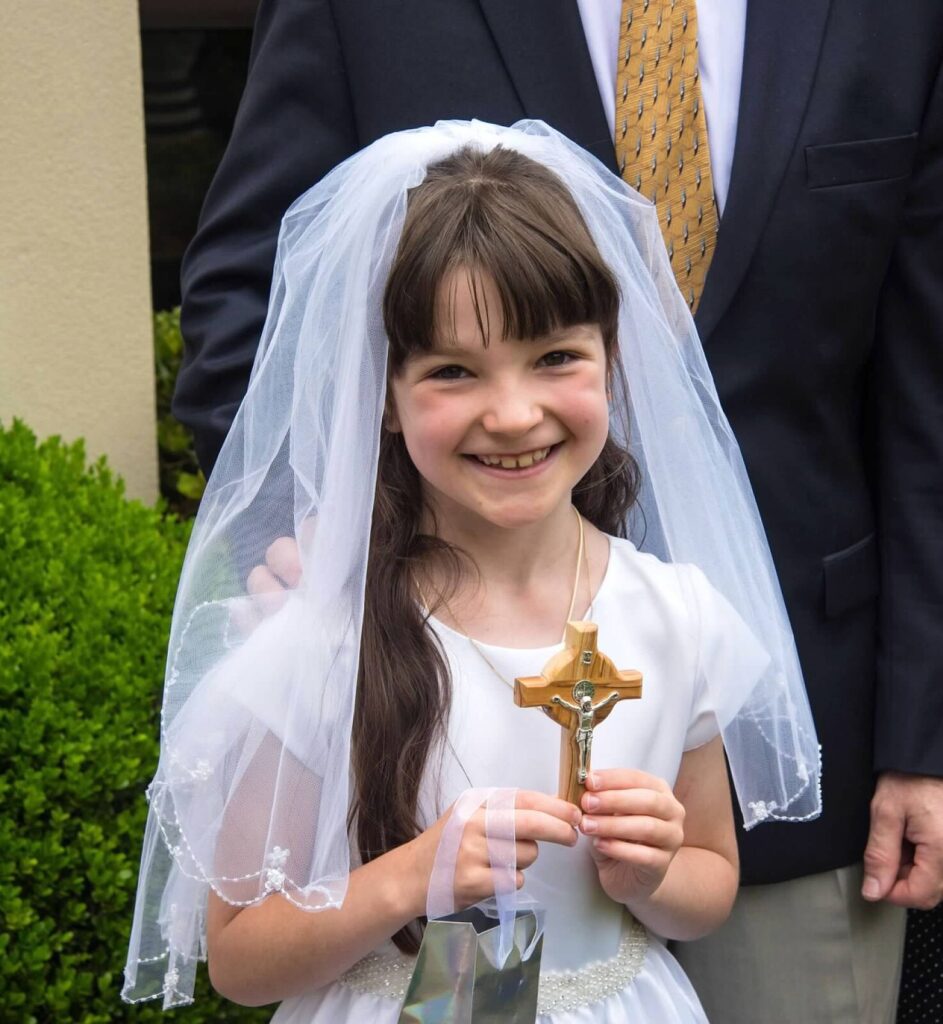 Order of Christian Initiation for Children
Children 3rd through 12th grade who have not received the Sacramental of Baptism and who have not received formal instruction in Faith Formation and have a desire to receive the Sacrament of First Reconciliation and First Holy Communion, please contact the Faith Formation Office to discuss your family faith formation options. These situations are discussed and evaluated on an individual basis. Call the Sacramental Coordinator, Mary Beth McKenna at 678-992-2515.
Sacramental Preparation Checklist
Your family must be registered in the Archdiocese of Atlanta and attend Mass regularly.
Regular attendance (maximum 3 absences) in our Faith Formation program. If the 1st year of faith formation was not at St. Benedict, we will need a record of your child successfully completing the program from your previous church.
Please supply us with a copy of your child's Baptismal Certificate with the full name of church and address.
Parent(s) with their child receiving the sacrament, are required to attend two formation workshops, one focused on Reconciliation in the fall and the other focused on First Communion in the winter.
Students will complete all lessons in class in preparation of their sacraments.
First Holy Communion 2023-2024 Schedule
First Reconciliation Workshop
Saturday, October 14, 2023 from 2:30 pm-4:30 pm
This is a parent and child workshop, so plan to attend with your child
First Reconciliation Sacrament
Monday, February 12, 2024 at 5:00 pm
Full details will be discussed at the First Reconciliation Workshop
First Holy Communion Workshop
Saturday, February 10, 2024 • Drop by between 1:00 pm-3:00 pm
This is a parent and child workshop so plan to attend with your child.
You will receive a pre-recorded 30-minute video session by Thursday, February 8th to watch with your child at home before attending the workshop
First Holy Communion Rehearsal
Thursday, May 9, 2024 at 5:30 pm
Full details will be discussed at the First Holy Communion Workshop
First Holy Communion Sacrament Mass
Saturday, May 11, 2024 at 10:30 am
Questions should be directed to our Faith Formation Director, Mary Beth McKenna at 678-992-2515 or email mmckenna@stbenedict.net