Teen Events & Service Opportunities
Teen Events Calendar with SignUp Links
The teen events and service opportunities along with the links to volunteer at the events are on the calendar.
Help with Teen Mass
Please help us at the 5:00 pm Sunday Teen Mass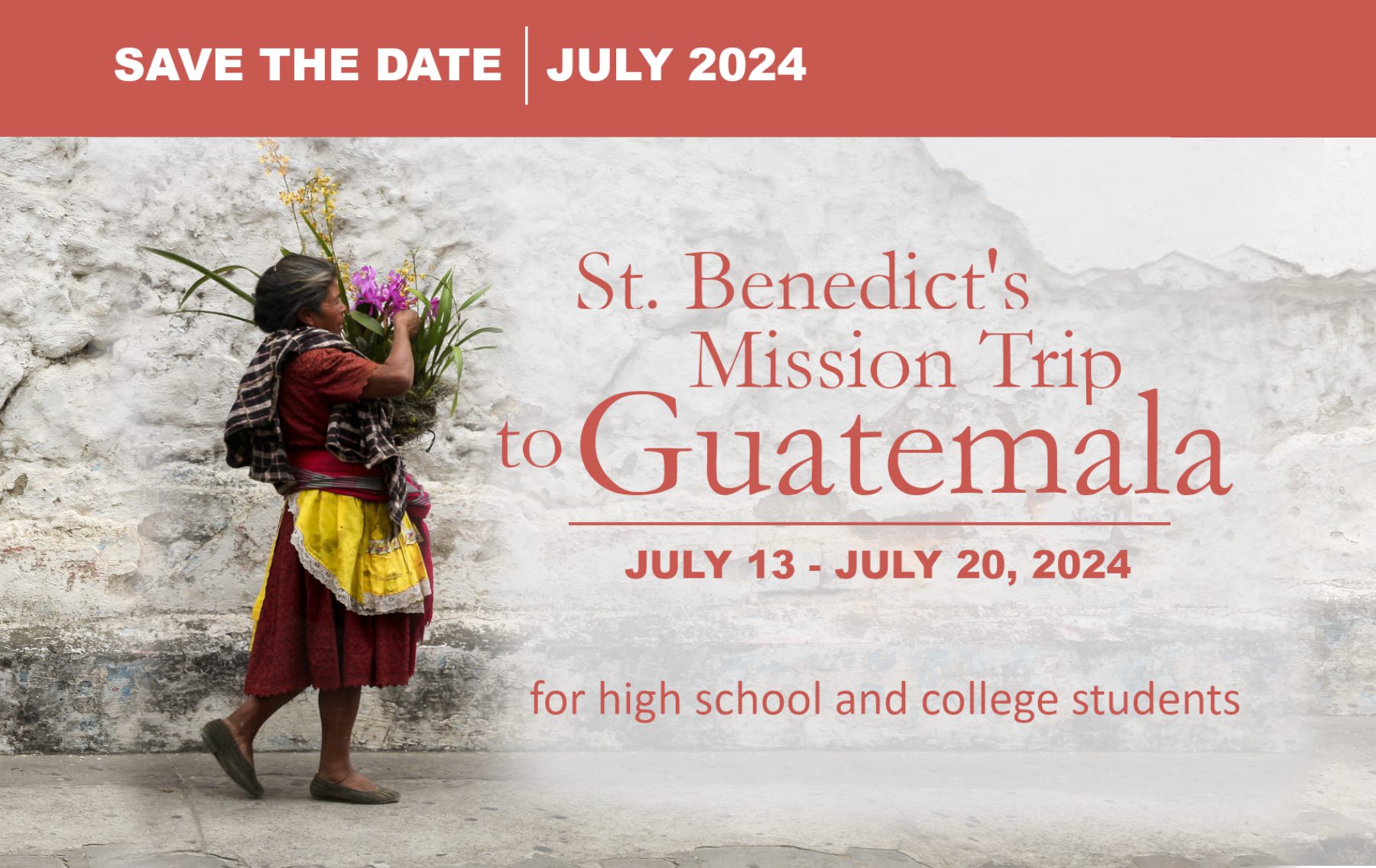 Save the Date | July 13-20 2024
St. Benedict's Mission Trip to Guatemala
for High School and College Students
Join Father Flood on a week-long mission trip to Guatemala with Porch de Salomon. Porch de Salomon is a unique and progressive non-profit which, since 2005, has loved, served, and encouraged "the lost, the least and the last" of Guatemala's Lake Atitlan basin.
This mission is open to high school and college students (must be 15 by June 1, 2024). Teens will actively contribute to improving the lives of Guatemalan families by working on a variety of service projects alongside local community members. Through meaningful interactions and shared experiences, the teens will develop a deeper appreciation for the resilience and beauty of Guatemalan society. There will be an opportunity to immerse themselves in the vibrant culture of Guatemala, exploring its colorful markets, learning traditional crafts, and engaging in cultural exchanges with the local youth. In the words of past missionaries "it will enlarge your heart, expand your vision, stretch your faith, deepen your compassion, and fill you with a kind of joy you have never experienced. "
Cost: $840 (includes local transportation, lodging, and food).
Airfare is separate (approximately $825).
Instagram
Please follow us on our Instagram account!
Remind
We use remind to send announcements and invitations to events from the Youth Ministry Office instead of traditional emails.
This code is for those teens who are not in our Faith Formation program, but would like to know about events, service opportunities, etc. If you are in our Faith Formation program, you will sign up for your appropriate grade level's remind in order to receive these messages.
If you would like to receive push notifications on your smartphone, open your web browser and type rmd.at/fddea8 Follow the instructions to sign up for Remind. You'll be prompted to download the mobile app.
If you prefer to receive text notifications, text the message @fddea8 to the number 81010. If you're having trouble with 81010, try texting @fddea8 to 832-786-2579. * Standard text message rates apply.
If you prefer to receive emails from remind, go to rmd.at/fddea8 on a desktop computer to sign up for email notifications.
Confirmation | Journey 1 | Journey 2 | Journey 3 | Core Team | Events & Service Opportunities